At rally in Vienna, activists call on Raiffeisen shareholders to withdraw from Russia
Ukrainians living in Vienna have staged a picket outside a hotel, where the annual general meeting of Raiffeisen Bank International (RBI) was held on Thursday, demanding that the institution exit the Russian market following the invasion of Ukraine by the Kremlin.
This is according to Ukrinform's own correspondent in Austria.
We have gathered today as the shareholders of Raiffeisen Bank International hold an annual general meeting. We handed out flyers to shareholders as they arrived. We have seen that about half of the shareholders are happy to take them. If we manage to reach at least a third of the shareholders who will raise the issue of Russia's withdrawal, then it can finally move from reflection and discussion to concrete action," said Andrii Karioti, a community activist. local Ukrainian. , which organized the rally.
Read also: UK Foreign Secretary lists conditions for lifting sanctions on Russia
Despite rainy weather, dozens of Ukrainians wearing national symbols gathered at the entrances to the Hilton hotel complex, located next to the RBI office, handing out leaflets urging the bank to suspend its operations in Russia and thus stop co-financing the bloodshed in Ukraine.
They also carried posters saying "Raiffeisen, stop supporting Putin!", "No business with the dictatorship!", "Raiffeisen, stop all operations in Russia!", "Raiffeisen, stop sponsoring the war in Ukraine!" etc
According to Karioti, the RBI shareholders' meeting is a perfect time to "take a step forward to ensure that the strategic decision to withdraw from Russia is not just words".
"Statements that Raiffeisen Bank International is considering leaving the Russian market are not enough. At a time when Ukrainian military and civilians are dying from Russian strikes, RBI is co-funding Putin's military machine. Today they have to decide if they are ready to further fund the Russian bombs or distance themselves from these humiliating actions," the activist said.
No incidents occurred during the rally, while the Austrian police monitored the observance of public order.
As reported by Ukrinform, on March 21, a picket was organized near the headquarters of Raiffeisen Bank International (RBI) in Vienna to demand the closure of the RBI subsidiary in Russia.
Against the background of the withdrawal of many international banks from Russia due to the ongoing war against Ukraine, Raiffeisenbank Russia continues to operate in the Russian market. The RBI said only that it was considering all strategic options for the future of its subsidiary in Russia, including a carefully planned exit. However, the banking group has not yet decided to suspend its operations in Russia.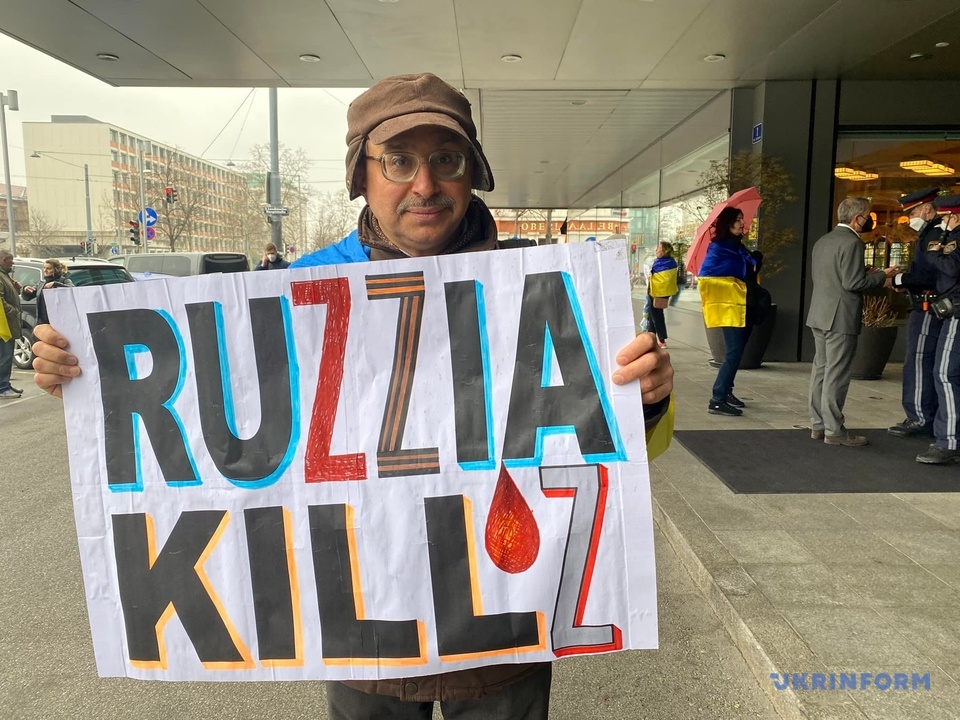 As noted, a full-scale Russian invasion of Ukraine has been underway since February 24. The invaders destroyed infrastructure and heavily shelled residential areas, killing Ukrainian civilians, using artillery, rockets and ballistic missiles, as well as bombs.
The entire Ukrainian people rose up against the enemy and gave the Russians a decent rebuff.