FIU Hospitality Management Students Win Scholarships for Their Creative Dishes, Coming Soon to a Seafood Festival Near You | FIU News
by Olivia Catasus
On their way to careers as executives in hotel chains, restaurateurs and owners of their own entertainment and events companies, majors from the Chaplin School of Hospitality & Tourism Management have gotten a taste of what makes their exciting industry. In a recent competition that allowed them to test their cooking skills – something their business-focused studies don't usually focus on – eight pairs of students competed for bragging rights and scholarships. that depended on making the most delicious salmon and cocktail combo.
The competition was the brainchild of Assistant Professor John Noble Masi. With the upcoming Deering Estate Seafood Festival in mind, Masi saw the perfect opportunity to engage the students in friendly competition. "I went to Bacardi and told them I was doing a cocktail contest with Bacardi products and they gave the winning team a $1,000 scholarship," Masi explained. "I wanted there to be an incentive, in addition to the wonderful recognition the students will get on stage at the festival."
Students had less than 10 days to formulate their recipes, and Chaplin School partners Badia Spices, Bakkafrost and Golden Rule Seafood added ingredients for the plated portion of each entree. The judging panel included local foodies and community members Belkys Nerey, award-winning journalist, WSVN-TV news anchor and host of the cooking show "A Bite with Belkys"; Maria McDonald, former president of 100 Ladies of Deering; Nina Zanella, Executive Director, Deering Estate Foundation; and Courtney Reeder, Director of Operations, Golden Rule Seafood. Dishes were judged on taste, presentation and creativity.
The scent of Caribbean spices, tropical fruits and Asian-inspired condiments filled the air as contestants, such as senior Rowan Jacobs, took on the challenge. "Most of the other students I've competed with have been my class assignment partners and SOBEWFF® events," Jacobs said, "so it was a lot of fun competing against them."
Jacobs' dish was a curry soup that featured a dumpling filled with grilled salmon and cashews and served with a sautéed sweet chilli and coconut sauce. The dish was accompanied by the team's lime pie cocktail of rum, lime juice, brown sugar syrup, coconut cream and a graham cracker rim.
"It was an incredibly tough competition to judge," said Reeder of Golden Rule Seafood, who along with his fellow judges surprised everyone during the tasting deliberations. "We had such a hard time picking a single winner," she said, "that we decided to pledge another $1,000 scholarship for a second-place winner."
First place, a share of the prize money and the opportunity to present their creations live on the festival stage on April 10 went to Alexa Rodriguez and Leo Soto. Their miso and soy sake glazed salmon and passion fruit martini with hibiscus ginger yuzu simple syrup met all the judges' criteria. Second honors went to Benz Abas and Regina Dukat, whose Caribbean jerk salmon with mango salsa and mango mojito inspired the addition of a second purse.
"Winning this scholarship means the world to me," said Rodriguez, a senior. "I am constantly grateful every day for the different opportunities the Chaplin School gives us to continue learning, growing and helping us with our education."
Chaplin School student Rose Chusid with her lime pie cocktail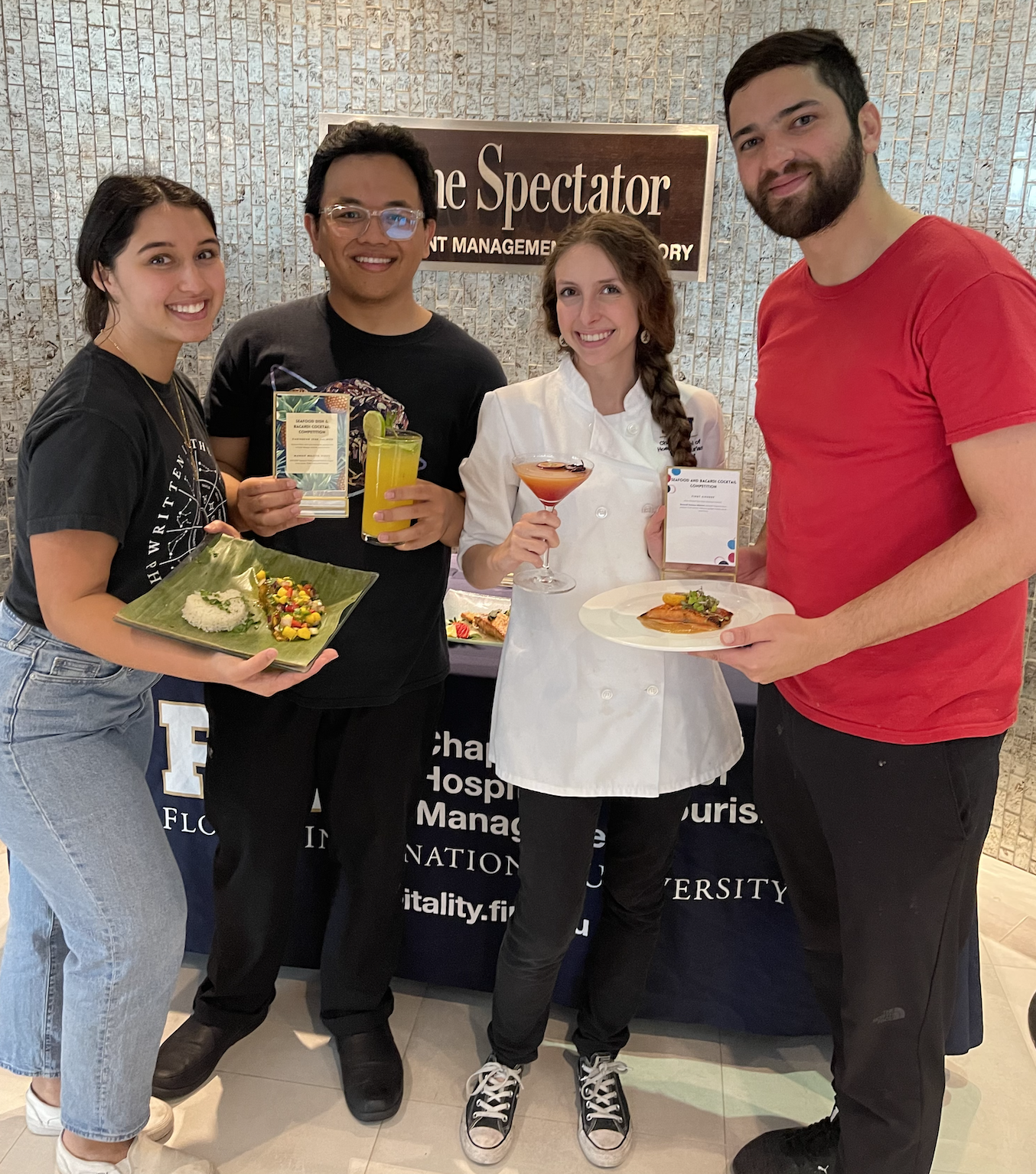 From left to right: second place winners Regina Dukat and Benz Abas and first place winners Alexa Rodriguez and Leo Soto