Old Town bar where fatal shooting occurred "Closed for now", Ald. Said – but report says it was open Thursday night
OLD TOWN — A rooftop bar in Old Town where a fatal shooting occurred last weekend says it will remain closed for now, but a report claims it was open Thursday night.
The shooting stems from a fight that occurred at the J. Parker Rooftop Bar at the Lincoln Hotel, 1816 N. Clark St., police said.
Around 1:20 a.m. Sunday, Allen Cordayl, 35, got into a fight with another man, who fired a shot that hit Cordayl in the chest, according to police and the Cook County Medical Examiner's Office. Cordayl was taken to Masonic Medical Center in Illinois, where he was pronounced dead.
In an electronic bulletin sent to his constituents on Thursday afternoon, Ald. Timmy Knudsen (43rd) said the rooftop bar "will remain closed for the time being". But a report from CWB Chicago claims the bar was open Thursday night when its reporter came in for a cocktail.
Dan White, general manager of the Lincoln Hotel, had no comment on the bar's opening on Thursday night. But he said hotel management was in daily communication with the 18th District liaison sergeant and the bar was closed to the general public but restricted access to private events and hotel guests.
"We have a strong security presence at the hotel, including on the rooftop," White said.
Knudsen's office issued a statement Friday afternoon saying the bar will be closed all weekend.
"After speaking with CPD and hotel management, the rooftop bar at the Lincoln Hotel will remain closed to the general public throughout the weekend at Ald. Knudsen's request. The alderman has been in constant communication with 18th District Commander Jon Hein, will continue to share updates as they become available, and remains dedicated to further conversations between the community and hotel management to resolve issues. other problems.
Neighbors discussed the bar at a security meeting in the Old Town on Monday night, where they said complaints about the bar stemmed from before the shooting.
Some neighbors said they felt vindicated in their opposition to the Hotel Lincoln's plans to expand its rooftop bar, which were presented at a community meeting last month but have since been shelved.
"It makes us feel even more like we were absolutely right to be concerned about their expansion," said Susan Boggie, president of the condo association for a building directly west of the Lincoln Hotel. "What happened on Saturday night is incredibly sad and tragic, and I'm so sorry for the families involved. But we knew that in the direction this helm was heading there was the potential for many threats to our safety.
Issues with the bar ranged from loud music to rowdy customers and bright neon lights, Boggie said.
Neighbors said they wanted the bar to come up with an operating plan – something that would have been needed had it not withdrawn its application for a special use permit for the extended roof – that would address their concerns regarding noise, rowdy customers and community safety.
"They may not expand the roof, but they'll still have the roof, and we'll still have all these problems," neighbor Shannon Waterfield said.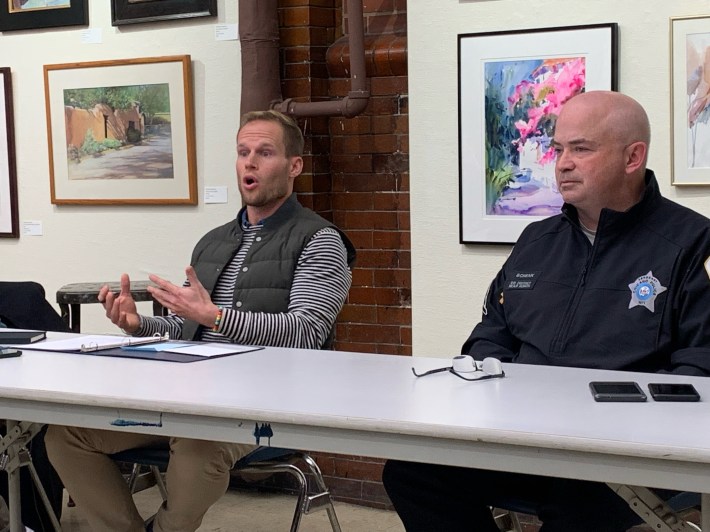 At Monday's meeting, Knudsen said he would ask the owners of the Lincoln Hotel to meet with neighbors and discuss strategies to address their concerns.
"Things like soundproofing came up during the meeting [last month] in a really productive way, [but] this plan of operation is no more because the project is no more," Knudsen said. "So I hear you saying we want to have the conversation with them to make sure something like this doesn't happen again."
Listen to "It's Alright: A Block Club Chicago Podcast":