The best things we've seen this year in Metro Phoenix
[ad_1]
The creative community has offered a fascinating mix of arts and culture this year, often working together to reveal the talent and resilience among us. Here's a look back at 10 of the best things we've seen in 2021.
Woman-centered exhibitions
Knowing how sadly women are represented in most museum collections and exhibits, we were delighted to see so many spaces focusing on the work of female artists in 2021. Our favorites included "Division of Labor: Women Shifting a Transnational Gaze "at the Scottsdale Museum of Contemporary Art and" Things We Carry "at the Lisa Sette Gallery, which featured works by Angela Ellsworth as well as Merryn Omotayo Alaka and Sam Fresquez.
New creative spaces
We loved seeing new creative spaces open in 2021, as artists continued to find new ways to create and show their work. Palabras Bilingual Bookstore and Wasted Ink Zine Distro formed a creative hub called Nurture House, where other collaborators included local presses and a bakery. An indigenous art space called Cahokia has opened in Roosevelt Row, and artist Patricia Sannit has created the Rocking S Art Ranch which is home to several artist studios and shared workspaces.
Sky Harbor Airport Art
Art highlights in 2021 included the relocation of Paul Coze's famous mural to his new home in the Phoenix Sky Harbor International Airport car rental center. The Phoenix Airport Museum also offered other delicacies, including exhibits highlighting the art of skate decks and muralists, which introduced Arizona-based artists to travelers around the world.
the Purple protest
Thousands of manufacturers from across the country have contributed red and blue textile squares to artist Ann Morton Purple protest which emphasizes civic engagement and collaboration. The project was exhibited at the Phoenix Art Museum in 2021, and numerous 8-by-8-inch works of art were sent to members of the United States Congress in an attempt to counter divisive rhetoric and encourage bipartisanship, resulting in makes a mixture of monumental art. and civic engagement.
El Mac and Breeze fresco
In a year filled with creative collaborations, a mural painted in downtown Phoenix by Miles "El Mac" MacGregor and Thomas "Breeze" Marcus ranks high among our favorites. Title Si'alik Hiosik / Morning Flower, the 45-foot by 85-foot mural imbues the visual culture of the downtown core with the culture of its native peoples and recognizes the long trajectory of their continuing impact on the region.
Will have at the water's edge
Hundreds of people gathered around the Marshall Way Bridge along the Scottsdale waterfront in November, watching dancers Nicole Olson | MovementChaos perform a new work titled Will have as part of Canal Convergence. Dressed in bright red, they brought generous movements that infused the outdoor public art space with unprecedented joy and a strong sense of shared community.
Works "not contained"
Despite the reduction of First Friday for much of 2021, community members could still count on rotating exhibitions of fresh art in the form of murals created by Indigenous and Latino artists outside a container. expedition to Roosevelt Row, for the "Uncontained" project coordinated by Xico Arte y Cultura.
Highlights
Several creative spaces reached milestone moments in 2021, reminding the community that arts and culture have overcome all kinds of challenges over the years. As Black Theater Troupe presented its 50th season and Alwun House marked its 50th anniversary, for example, there was cause for celebration despite the devastating effects of COVID-19 on the local creative scene.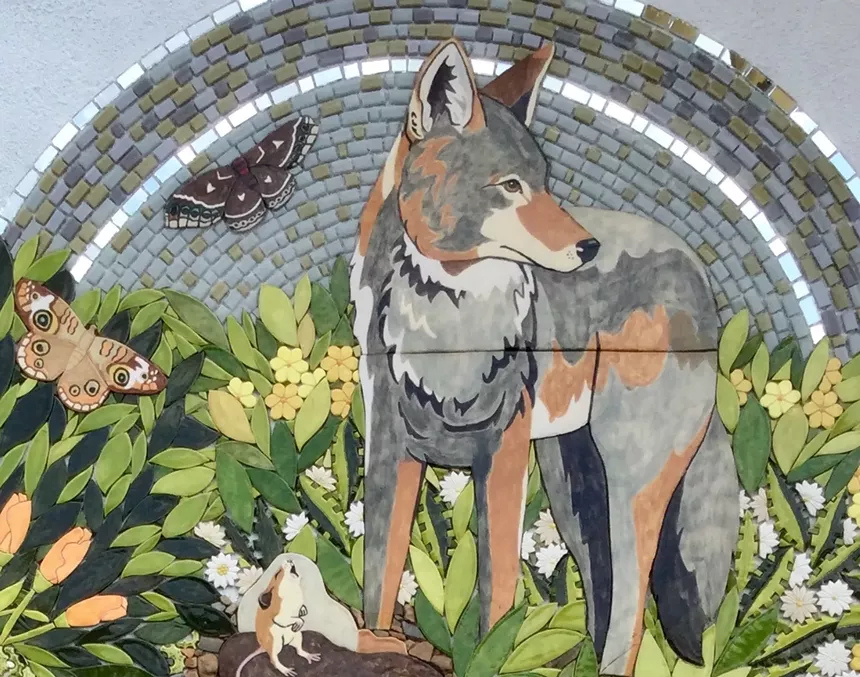 Desert fauna mosaic
Tammi Lynch-Forrest completed her 100-foot mosaic mural in North Scottsdale in 2021, after spending three years on the piece, which features more than 200 species native to the Southwestern Desert. Commissioned by the Desert Mountain community, the mural features more than 50,000 tiles that create a scene showing the light of the desert passing from day to night. The mural is a testament to the resilience of desert and local artists.
Reopening of Burton Barr
Seeing the Burton Barr Central Library and other library branches gradually resume in-person services from April 2021, following COVID-19 closures that followed a major flood crisis, raised hope for the literary and cultural life of the city, and allowed us to celebrate the physical return of this cherished community space.
[ad_2]